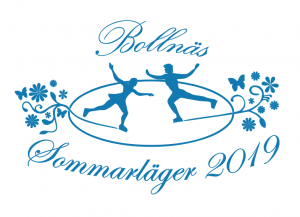 Invitation to Bollnäs KK's Summer Camp, 5-16 of august 2019 at Sävstaås Ice rink
The coaches at the camp are:
Amanda Palmér, former figure skater and head coach of Bollnäs KK.
Amanda has the Swedish Figureskating Association's instructor education 3B and Swedish Sports Educators ( SISU ) coach education GTU1.
Hennette Toivanen, former high-level figure skater and now coach in Luxembourg.
Hennette has the Finnish Figureskating Association instructor education 1 and 2. Hennette is also a trained sport masseur.
We hope that many will take the chance also this year to be at Bollnäs Summer Camp 2019. The number of participants is limited so that we can keep the quality of the training at a high level.
Registration is done via the form before May 31 2019,
Link to form: https://goo.gl/forms/5NEf7CWQ6OQKHU8U2  
A non-refundeble registration fee of 400 SEK is paid to our account at the time of the registration:
Bollnäs Konståkningsklubb, Växbovägen 17D, 82151 Bollnäs, Sweden
IBAN: SE09 9500 0099 6026 0014 8676
BIC (SWIFT): NDEASESS
Camp fees:
| | | |
| --- | --- | --- |
| 3 ice+1 off ice/day | 1 week | 3000 SEK |
| | 2 weeks | 5000 SEK |
| 2 ice+1 off ice/day | 1 week | 2500 SEK |
| | 2 weeks | 4100 SEK |
Lunch and lighter food in the afternoon is included in all of the camp fees. Follow the links below for some options on living arrangements in Bollnäs.
Bollegården B&B Sporthotell vandrarhem
http://bollegarden.se/
Scandic Hotels
https://www.scandichotels.se/hotell/sverige/bollnas
Airbnb
https://www.airbnb.se/s/Bolln%C3%A4s/
The camp fee will be billed and must be paid no later than June 30 2019.
At late registration after the end of the registration period an additional 500 SEK will be added to the camp fees.
Contact info@bollnaskk.se for questions about the camp.
Welcome to two weeks of fun with a lot of skating!